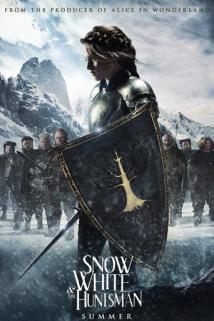 Snow White & the Huntsman
In a twist to the fairy tale, the Huntsman ordered to take Snow White into the woods to be killed winds up becoming her protector and mentor in a quest to vanquish the Evil Queen.
Actors

Kristen Stewart as Snow White
Charlize Theron as The Evil Queen
Chris Hemsworth as The Huntsman
Sam Claflin as Prince Charmant

Genres

Adventure
Fantasy
Action
Drama
How We Rated This Movie...
Anonymous
Anonymous
Wasnt as good as the hipe
Dona
The graphics are incredible. The story line good. Charlize Theron steals the show. Chris Hemsworth is very believable, well done. The dwarfs are not the predictable lovable boys, they are the real thing, gritty and memorable. This movie is very dark all the way through. Well worth watching. Had high hopes for Christen Stewart in this one, but unfortunately she brought Bella with her and I could not get past that. If she could have left that character at home or if they would have cast another in her place, this movie would have been 5 stars. For those who never saw the Twilight Saga, this will be a good movie as they won't recognize the melodramatic Bella in Snow.
Amanda
Stupid love triangle is everywhere! Wicked queen is amazing! And Chris Hemsworth is super hot (of course). I'd wait for the redbox. This movie had the most awkward ending I've ever seen: everyone looked around at each other for 5 minutes as if silently asking "so can we stop acting now and go home now?"
How would you rate this movie?